News - The latest happenings in the Atari world
ST Format to close
Recent reports on the Cix and BBS networks state that ST Format is to close after the current issue (86). This is probably the biggest blow to the Atari market ever and will mean that we will no longer have a generally available paper magazine.
ST Format has been available in its current state for over seven years, it was previously known as ST/Amiga Format (back in the days when the ST was the most popular 16 bit computer!).
The most likely reason for the closure is that the publisher, Pearsons, decided that it was no longer financially viable.
Future Publishing will contact subscribers with regards to their subscriptions soon
Atari Computing - They Think It's All Over
One magazine closes as a new one is to open!
Following on from our previous issue, Mike Kerslake has announced that he will definitely release at least one issue of his proposed magazine - Atari Computing - They Think It's All Over. He has managed to get the financial support to release at least the first issue which will hopefully be followed by more.
The magazine is to be 60 pages in length and will have a glossy cover. It is most likely to be subscription only to start with, but with enough support it could go farther.
Mike has signed up both Frank Charlton and Joe Connor as co-editors of the magazine. There are at least five ex-Atari World writers involved in the project and therefore, the articles will be of a very high quality. The magazine is expected to retail at £3, that is just two thirds of the price of ST Format.
We wish Mike luck in releasing the magazine and hope it is a success!
Chameleon BBS
Martin Stacey, SysOp of the Chameleon BBS has announced that he has decided to shut the board down soon. He isn't abandoning the Atari market, but he no longer has the time to continue the service.
We would just like to thank Martin for the assistance he has given us in getting on-line. Keep an eye out for him in the comms scene though!
DBA Disk Magazine to close
Yet another closure this month, the long running DBA Disk Magazine has shut down. This has left a big hole in the Atari disk mag world and means that Maggie is the only Major UK diskzine left.
Slimer, the editor of the zine is still around and will be writing articles for other projects.
Atari News Update
Mike Goodman is looking into printing a bi-monthly Atari magazine, the Atari News Update. If you are interested, write to:
Goodmans International, 16 Conrad Close, Meir Hay Estate, Longton, Stoke-on-Trent, Staffs, ST3 1SW
MagiC 5
MagiC 4 has only just been released and now there is talk of MagiC 5 being ready by the end of the year. Reports on the Candian Computer Direct web page: www.compdirect.com state that MagiC 5, Ease 5 and MagiCMac 2 will all be released "later this year".
UK Distributors System Solutions have no information on the products yet but try ringing them on 0181 6933355 for the latest.
Tesla
Rogier Cobben is currently looking for a UK commercial distributor of his forthcoming sample editor 'Tesla'. Anyone who is interested should contact the Atari Authors Association and we will pass the information onto him.
Atari Shows
The UK Association of Atari User Groups run by Harry Sideras is to have a stand at the shows in September. You'll be able to find out information on most Atari user groups and Harry can assist you in choosing the one which is best suited to you. Also on the stand will be an Atari computer with a collection of web pages relating to Atari user groups for you to browse.
Mike Goodman has said that the shows will definitely proceed even without the backing of ST Format.
Mike Kerslake's magazine, Atari Computing, will be launched at the shows. You can pick your copy there if you attend.
Atari Entertainment
A new bi-monthly magazine aimed at Jaguar and Lynx owners has been launched.
Atari Entertainment is an amateur magazine and yearly subscriptions cost just £10. Write to Atari Entertainment at:

Atari Entertainment, PO Box 7, Risely, Reading

If you own one of these Atari consoles give it a try!
Floppyshop price cuts
Floppyshop has recently cut the prices of its products, you can now choose PD disks from their massive catalogue of over 3900 Atari disks to just £1.25 per disk.
The commercial packages EZ-Art Professional and Easy Stitch are now just £10, Family Roots 2 is £15, DegasArt 3 is £6 and Positive Image is still priced at £65.
For more information phone Steve Delaney on 01224 586208.
Software News
No! Software, programmers of Arabesque and Thats Write, has ceased development of Atari Software, they intend to program for the PC OS/2 platform.
Stoop has now been released as freeware, you'll need to enter your name as Phil Hodgkins and use the key ndoazQnf to unlock the programs features.
DMC has sold the rights to the Atari versions of Calamus, Calamus S and Calamus SL to the Canadian company MGI. DMC will continue to develop the Windows 95 version.
Registered users of Imagecopy 4CD are now able to obtain the latest beta update from the stapplications/imagecopy conference on CIX or from FaST Clubs web page at: www.compulink.co.uk/~sta/
Wessex Atari Group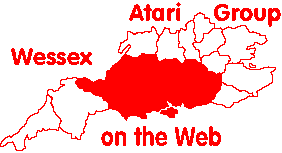 Wessex Atari Group's Internet web page is going from strength to strength, it has loads of links to both Atari and non-Atari pages as well as the latest news and rumours relating to things in the Atari market.
You may even be able to find the latest news on Croft Soft Software and your favourite news letter!
Point your browser at: www.compulink.co.uk/~mrgs/wag/welcome.htm
---