Heartland (Review 2)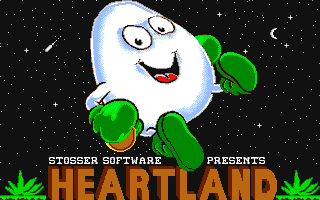 Upon loading the game and seeing the loading screen I though I'd somehow gotten a hold of one of the old Dizzy games from Codemasters but after reading the doc's it is explained that Dizzy was only used originally to test the game engine and was only left in because they couldn't come up with any thing that they liked better. After trying to get a hold of the copyright holders with no success and the game being free they presumed nobody would mind. That's that out of the way!
Now the game considering it is written in STOS is better than average. The scrolling is fairly good apart from a slight flicker when scrolling sideways but not too bad to spoil the game, it is infact bairly noticable as my children couldn't even tell it was there but they aren't sat as close to the TV as I am to my monitor.
Now the game play is rather good but the hazards are too easy to avoid while the children generally enjoy the game they all say it was rather easy. I asked the kids to write ther comments as they are the game players in this house (I only play when their in bed as they are better than me!)
Comment from my stepson, Philip, 9
It is a good game it was a bit easy so you could make it a bit harder I like the game and I would like to see some more of games like this.
Comment From my other two stepsons aged 11 and 6
I liked Heartland, it's a good game. We didn't like the music in the game and it was too easy (This from the eldest). I hope he makes more games like this as we can't get too many new games. (A Comment from the youngest) Will you buy it for us!
My own two children who now live with there mother have also had a copy passed on to them and they both have this to say....
"We find the game too easy but the game is enjoyable to play it makes a change to have a game to play that is not impossible to complete."
What the kids have said I must say is just what I would have said while the game is enjoyable it does seem easy, maybe it could have had a better dificulty level.
All in all the game seems to be well written and does run on all Ataris with 1meg it is supposed to have better sound on the STE and Falcon but the in game tune on my STE doe not sound at all good just glad you can turn it off, no need on a FM as there are only in game sound effects, maybe the sound is better on a Falcon.
I hope Tony continues to write software for the Atari range as HERO and B Squad are very good but this time I think he might have done better by producing a game that was a bit more orignal. Maybe next time?
---

Program: Heartland       Author: Tony Greenwood
Contact: Dean Chadwick, 138 Townfields Rd, Westhoughton, Bolton, 
            Lancashire, England, BL5 2NT
e-mail: stosser@airtime.co.uk
WWW: www.stosser.co.uk

Stephen F Barszczak
---