News - The latest happenings in the Atari world
Falcon FacTT File's new recruit!
The Falcon FacTT File has been run for three years by Kev Beardsworth and Colin Fisher-McAllum as a hobby. The membership listing, 42BBS and their new magazine, AtariPhile, is proving to be a too heavy task for them to bear. Therefore, they are pleased to announce that Domhnall Dods, a long standing contributor and FFF member, has joined them as a co-organiser.
Also, following consultation with many of their active members, they have decided to drop the membership listing and therefore end their user group status. This way they can concentrate on AtariPhile and 42BBS. They will not change their name, the FFF will act like a publishing house.
They will continue to publish AtariPhile and run 42BBS for some time to come.
---
LAPD August Licenceware sales
LAPD's licenceware sales for the quarter ending 31st August reached almost œ600. The top selling game for the quarter was Grand Prix Manager selling an impressive total of 45 copies. Croft Softs game iTrader/i dropped slightly to the eleventh best selling game of the quarter. LAPD has asked all its Licenceware authors to supply them with screenshots of their games for inclusion in the LAPD Internet page. Pictures should either be e-mailed to leigh@lapd2.demon.co.uk or sent to LAPD at:

LAPD, PO Box 2, Heanor, Derbyshire DE75 7YP

To view LAPDs web page, point your browser at: www.lapd.demon.co.uk
---
Papyrus 4
HiSoft have announced that they hope to release the long awaited Papyrus 4 at this months Atari shows. They have been promising the release of the program since last year and it finally sounds as though we are going to see it.
Version 4 offers greater support for colour printers and can import, among other things, the popular GIF file format. The program has been re-written in C and should therefore be faster (the original, believe it or not, was written in GFA Basic!).
For more information see our preview in issue 1 or call HiSoft.
---
Atari Article Archive
Frank Charlton of ST Format has set up an internet web page containing articles which were originally intended for the magazine. Articles from him, Mac Marsden and other ST Format contributors will be placed at this site and it will soon be an essential place to visit to find out the latest Atari information. For more information point your browser at: www.netkonect.net/tachyon/A3/
---
Croft Soft Restructuring
As of the beginning of September, Croft Soft Software has restructured its release plan. For more information and the new release schedule check out the Croft Soft Information page of this magazine.
The Atari Authors Association has dropped the review scheme, they will continue to offer support to new and non-UK Atari programmers. For more information see the AAA page in this issue.
Croft Soft is also investigating the possibility of an internet page, more news on this next issue.
---
Ad.Lib BBS
Ad.Lib BBS has had a change of number and change of SysOp.
Frank Charlton has taken over from Andy Curtis in the running of the board. If you are looking for an Atari BBS make sure you check out our contact section.
---
New Games
September sees the release of some top new Atari games.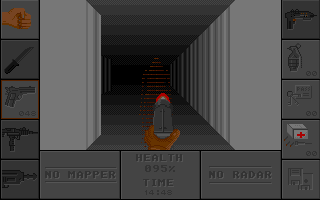 First up we have Destruction Imminent from Goodmans International. DI is a Doom clone for the ST/STE and it features texture mapped 3D graphics, sampled sound and digitized music. The game is due for release on 28th September at the September Atari shows. For more information and screen shots have a look at our preview this issue.
Secondly is Tony Greenwoods Heartland, a platform game for the ST/STE. Featuring cute well drawn graphics and a well designed map, this game could reshape the future of ST platformers. Heartland is also due for release on September 28th but it can be picked up off the Internet and some Bulletin Boards now. Check out our review this issue.
This month will also hopefully see the release of Croft Softs latest game, Mole Mayhem, see the Croft Soft Information page for more details. A three level demo is available from 42BBS or by sending a blank disk and SAE to Croft Soft Software.
---
CyberSTrider change of address
CyberSTrider shareware support group has had a change of address. Send all correspondence to:

CyberSTrider
PO Box 78
Manchester
M21 8SJ

And new web pages on: www.cyberstrider.org
---