Bits 'n' Bobs
Power Up Plus
The hit drive 'em up of 1997 is having a face lift for the new year.
Power Up Plus is an update to the game released last year and reviewed back in AT11. It is available to current users free of charge from:
http://NOVELL.FELK.CVUT.CZ/~cichon.rtime/pu/pu.htm
For more information regarding Power Up Plus, take a look at the email we received from Marek Chichon in this issue...
Richard Karsmakers
Ex-editor of ST News and the man behind the industry standard UVK has recently changed his email address. If you wish to contact him, he can now be found at:
karies@wxs.nl
The new face of ST+
Issue 24 of the ST+ disk magazine will be its last. After two years of releasing the monthly disk magazine Dave Hollis has decided to call it a day.
It's not the end of an era though as Dave has decided to switch over to producing a monthly paper based fanzine instead.
Commencing from issue 25, the ST+ Fanzine will be an A5 publication carrying the same sort of things as it's disk based predecessor.
The ST+ Fanzine is due for launch in February at a cover price of around £1.50
More information can be found at the ST+ Fanzine homepage at: www.users.zetnet.co.uk/paxton/
Or, you can check out their advert in this issue.
STOSSER Software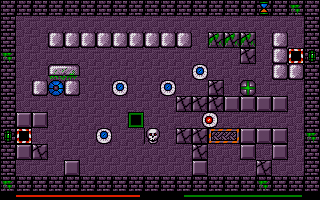 Tony Greenwood has announced details STOSSER's next game.
In a bit of a 'break from the norm', Thinker, is going to be a puzzle game which will involve you 'pushing' things around the arena in an attempt to get them into certain positions.
The game is being written to be compatible with all the Atari platforms including most emulators, however STe owners will get the best results.
The game is due fairly soon and is deffinitely one you should look out for.
Silly Software
Silly Software will be releasing their new game Mummy's Playtime sometime early in the new year. It will include sub games such as Go Fish, Gin Mummy, Nuns and Crosses, and Bangman. It will be fun for children and adults. Includes sampled speech on STE's. The game will need computers with at least one meg.
After Mummy's Playtime Silly Software plan to start work on Silly Combat. A micky take of Mortal Kombat with a host of silly fighters to tackle including Grannie Grump who's special move is 'A nice cup of tea'.
All Silly Software titles except for the Grafix Art Tutor are now fully Freeware and can be downloaded from their web site. All future titles will all be freeware.
The new Silly Software artist is called Mick, and will be known as Chillum.
---